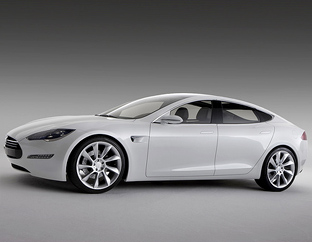 Tesla Model S
Ford Motor Co., Nissan North America and Tesla Motors Inc. will receive a combined $8 billion in Energy Department loans to help make more fuel-efficient cars and trucks, the Obama administration announced today.
Energy Secretary Steven Chu made the announcement at Ford's Research and Innovation Center in Dearborn, Mich., calling the program a "personal victory" for President Obama and his "new energy strategy for America."
"The most fuel-efficient cars in the world must be made here in America," Chu said. "This is not a talking point for this administration, it is a genuine commitment."
The loans are the first to be awarded from a $25 billion program designed to help automakers meet new fuel economy and emissions standards and are separate from both the federal bailout of General Motors Corp. and Chrysler LLC, and the $787 billion stimulus package.
Ford, the only member of Detroit's Big Three not surviving on federal aid, was awarded the largest share of the government cash. The company will receive $5.9 billion to help finance engineering advances to both traditional internal-combustion engines and electrified cars and trucks. The loans will also help Ford convert existing truck plants to produce cars and to retool plants in five states to increase the fuel efficiency of the company's fleet.
Nissan will receive $1.6 billion to make electric cars and battery packs at its manufacturing complex in Smyrna, Tenn. The loans will help build a new battery plant and retool an existing assembly plant. The Japanese automaker is currently developing an all-electric car that it hopes to bring to market in late 2010. Production of the car will initially be in Japan, but the company has said they eventually want to move some production to its Tennessee plant.
California-based Tesla Motors will get $465 million to help produce its Model S, an electric sedan that is expected to be roughly $50,000 cheaper than the company's first vehicle, the two-door Roadster which costs roughly $100,000. Tesla aims to begin selling the Model S in 2011 and ramp up production to 20,000 vehicles per year by the end of 2013.