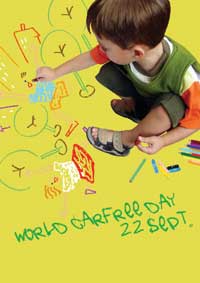 FOR IMMEDIATE RELEASE
22nd SEPTEMBER: WORLD CARFREE DAY!
PRAGUE - Thousands of people will be taking to the streets in cities around the globe on Sept. 22 to celebrate the annual World Carfree Day: a joyous public celebration characterized by festivities, mass bicycle rides and free public transportation for all to enjoy.
The World Carfree Day, promoted by the World Carfree Network, is intended to advance the economic, social and environmental benefits of self-propelled or mass transportation. It also aims to show how livable modern cities can be when free from the noise, stress and pollution caused by cars. Highlights for this year include the closing down of Brussels' Capital Region to all motorized transport from 9.00 a.m. until 7.00 p.m. and the plans by Washington's citizens to surpass last year's 10,000 "carfree pledges".
With crude oil prices remaining over US$100 per barrel for most of 2008, people around the world are re-evaluating their relationship with the car. Evidence can be seen by the rapid increase in the United States' transit systems usage to levels unseen since the 1950's, by the success of Paris' Velib bike-sharing program that was ridden 27 million times in the past year, and by the 16% fall in car sales this year in the USA.
.
###
MEDIA CONTACTS
WORLD CARFREE NETWORK
Europe
Mr. Chris Coleman
Tel. (+420) 274-810-849, (+420) 774-646-804
E-mail: chris@worldcarfree.net
North America
Ms. Sara Stout
Tel. (+1) 718-344-8154
E-mail: sarastout@worldcarfree.net
South America
Mr. Étienne von Bertrab
Tel. (+5233) 3630-9336
E-mail: etiennevon@hotmail.com
Notes for editors
1. World Carfree Day was established in 2000 as a grassroots movement by the World Carfree Network to coincide with the European Mobility Week. It has grown to involve official and unofficial participants in over 1,000 cities in 40 countries.
2. The World Carfree Network coordinates the promotion of global events of the World Carfree Day from its offices in Prague, Czech Republic. Activities of the Network include the publication of the quarterly Carbusters Magazine and other carfree-related literature, and conducting the annual Towards Carfree Cities Conference.
3. The carfree movement is a broad, emerging network of individuals and organizations brought together by a shared belief that cars are far too dominant in most modern cities. The goal of the movement is to create places where car use is greatly reduced or eliminated, and to liberate road and parking space for public use.
4. For more information, visit
www.worldcarfree.net
Quotes
"World Carfree Day is not only a celebration of fun ways to get around the city, but a demonstration of what is possible: unclogged streets, clean air, and city traffic participants with their usual stress levels turned down drastically."
- Carlos Pardo, Sustainable Urban Transport Project - Bogota, Colombia
"Streets overfilled with big-engined cars and traffic jams and in need of bicycle infrastructure are the main reasons that make us act. And of course we'd like to be part of the global carfree process and make our small citizens' contribution into the
European integration of our country!"
- Viktor Zahreba, Kyiv Cyclists' Association in Kiev, Ukraine